CONSULTING
Different businesses have different requirements and needs when it comes to HR management. From managing fulltime employees to part time job-takers, project-basis staffs to freelancers, even partners and external contractors – every business is different when it comes to HR management. Thus, it is important to ensure that you are on the right track for your business so that you get the best out of your people.
At Orisoft, we have a team of experienced professionals that serves as field consultants where they are able to provide recommendations and advice on all HR matters. How does it work? Firstly, we would send a team to study and understand your organization. Upon our discovery and insights, our consultants would be able to advise on the right solutions to manage the challenges your HR team faces. Based on our expertise, we will be able to provide greater intuitions that would empower your organization to perform excellence through an effective HR workflow and system.
It doesn't end there! After implementation of the right solutions, our team will also work on an evaluation programme to prove that we have added values to your organization by simply doing what we do best: providing technology solutions that transform businesses.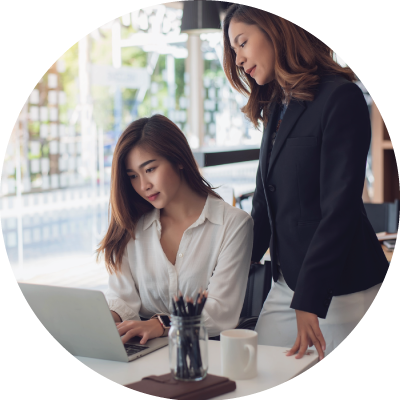 CUSTOMER SERVICE & TECHNICAL SUPPORT
We have a team of dedicated experts who work around the clock to ensure that you receive complete customer service and technical support when you engage our company. Whether you have enquiries or simply need a helping hand with any of our solutions, our team is ready to assist you in all possible ways. Our technology solution packages include a standard maintenance service which ensures you of the following:
Immediate response to your support enquiries
Immediate assistance on any technical enquiries
Continuous updates on Orisoft products and services
It is our commitment to ensure that our solutions and services deliver maximum results and performance in empowering your business growth. It is also our way of saying thank you for choosing and believing in us.
For support services, kindly contact us at the following:
Malaysia: +603 7890 2525
Thailand: +660 2670 1600
PROFESSIONAL TRAINING
Technology solutions are effective only when users know how to operate them to its maximized capabilities. At Orisoft, we provide more than just innovative solutions; we equip you with the knowledge and skills to use the solutions to your best advantage. We have user's training modules for each of the solutions we offer including basic learning and user guide training, practical session on how-to for applications and softwares, even knowledge sharing on HR management. The better equipped you are, the more you gain.
Our trainings are held in-house at our office, on-site at your office and via the Internet on secured websites. Our trainers are trained to impart knowledge and skills by first understanding the different learning styles of each participant before choosing an approach that would help them learn best. Orisoft's training programmes are categorised into three main types:
Hands-On
Ideal for kinesthetic learners who learn better through exploration of processes and systems. A comprehensive step-to-step practical session that walks participants through the whole process from A to Z.
---
Experimental
Participants will be given the chance to experience the procedure of processing information accurately and learn from mistakes through fix-it methods, patch-up techniques and system restoration.
---
Verbal
A two-way communication programme that encourages participants to engage with our trainers through FAQ session and forum-style settings where barriers are broken down to comfortable level of sharing and learning.